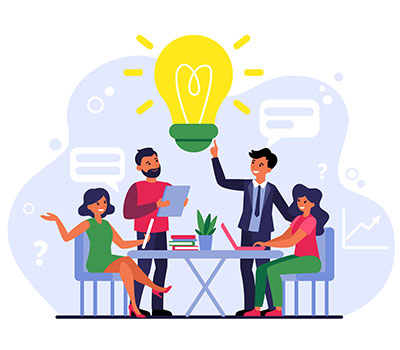 How do you measure your half? What's your take when things are 'half way'? A half is always a perception. Half is very ownish, half is good.
Halfcup Communications is one of the fastest growing advertising agencies in Kolkata. We are a team of industry professionals, providing the right advertising solutions for your brand. From creating a brand's 'personality' to its 'behaviour', we deliver it all.
Our expertise lies in creating a visual and interactive language for your brand that can effectively reach your target. And each brand deserves a different communication language. According to its character, need, and aspiration. We provide thoroughly strategized 'ROI-based' advertising solutions, which can catapult your brand to reach new heights of success. We will help to build your brand with a distinct positioning of its own in this cluttered market.
An advertising professional with 10 years of experience, she is the soul and heart of HALFCUP Communications. Having worked in various multi-national agencies, with a mixed bag of clients like Tata Steel, ITC, P.C. Chandra, Senco Gold, The Telegraph, Rollick Ice cream, Indian Oil, LIC, CK Birla Hospitals, Keya Seth, Sreeleathers, Metro Dairy, Raja Biscuits, Chandrani Pearls, Rupasi Bangla, News Time, Konark Cement, Sonic Batteries, Ebela (to name a few), she believes in one thing – advertising is very easy. You just need sleepless nights, endless brainstorming and countless 'copy options and scripts'. In short, little conviction is all it takes.
Having worked in numerous ad films, she herself took to independent filmmaking around 5 years back that has earned her much appreciation and several festival nominations.
Passionate, fiercely hardworking, she believes creativity spurs out of 'one single moment of truth'. Eccentricity – unlike many people who listens to music tracks on a loop, she watches films on loops. Her last record was almost 200 times through a span of 4 months. Ask her about it, she loves to blabber about it.
Arpita Das
Founder & Director